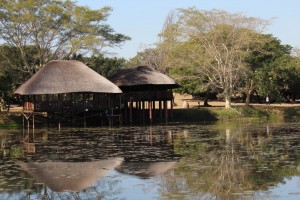 The conference will be held at Bonamanzi, a private game reserve in the heart of the Zulu Kingdom, two hours north of Durban.  Bonamanzi is home to elephants, rhinos, giraffes, zebra, hippos, cape buffalo, leopards, impala, nyala, kudu, crocodiles, wildebeest, and warthogs, along with many other species as well as countless birds.  It is also a short 20
minute drive from the world-class Hluhluwe-iMfoloze game reserve which also hosts all the big cats and the endangered African wild dog.  The park spearheaded rhino conservation efforts, and is now home to about 10% of the world's rhino population.  We will arrange an outing to Hluhluwe-iMfolozi as part of the conference.  The weather on the east coast of South Africa is moderated by the Indian Ocean and in January daily highs average 30/86 (C/F) and daily lows average 20/68.  Bonamanzi itself offers game drives, bird safaris, boat cruises, guided walks, and a spa.  The bar looks out over a water hole, where the animals come to drink.  Meals are available on-site.
Activities in the broader area include several other game parks, snorkelling and scuba diving at Sodwana Bay (home to 1200 fish species, including  coelecanths), river and ocean cruises at St. Lucia (a UNESCO world heritage site), a wild cat rehabilitation centre at Emdoneni Lodge where you can pet cheetahs, and Zulu craft and cultural activities.
All pictures © H. Cynthia Chiang (taken over a single weekend at Bonamanzi & environs)